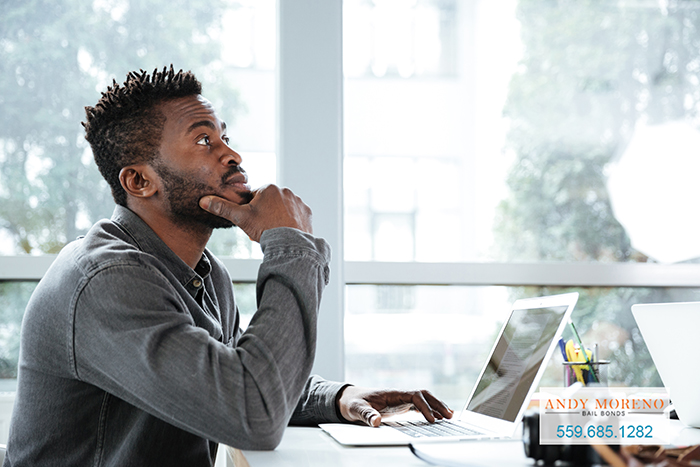 Bail isn't something that most people deal with on a daily basis. In fact, some people are able to go their entire lives without having to worry about bail. However, not everyone is so lucky. Sometimes, often when you least expect it, someone you care about gets arrested. When that happens you want to help them out, but have no idea how.
You find yourself looking at bail agents and bail bondsmen, wondering what the heck a bail bond even is. Luckily, a bail bond is very simple to understand, and the people working at Andy Moreno Bail Bonds in Porterville will be more than happy to help you. We provide free consultations to any Californians looking to post bail.
In its simplest form, a bail bond is an agreement between a bail agent and their client. The bail agent agrees to pay the full cost of the bail for their client. In return, the client only has to pay a percentage of that bail amount to the agent as payment for the service. Here at Andy Moreno Bail Bonds in Porterville, we only charge 10% of the bail amount, which means you get a 90% discount off the price of the bail.
With a bail bond, you don't have to pay the full bail amount, and you don't have to pay it off all at once. At Andy Moreno Bail Bonds in Porterville, we provide our clients with personalized payment plans. This way, the cost of the bail bond is broken up over several months, making it much more affordable for our clients.
Some of the other features we provide for our clients include:
24/7 Bail bond service
20% Discount
Phone approvals
0% Interest payment plans
No hidden fees
No collateral with working signer
Se habla Español
If you have never bailed anyone out of jail before, talk to the bail agents at Andy Moreno Bail Bonds in Porterville. Our agents are some of the best in the state of California. They will answer all of your questions and walk you through each step of the bail process. On top of that, we will provide you with a much more affordable option for rescuing someone from jail.
If you want to talk to an agent, all you have to do is call 559-685-1282 or click Chat With Us now.